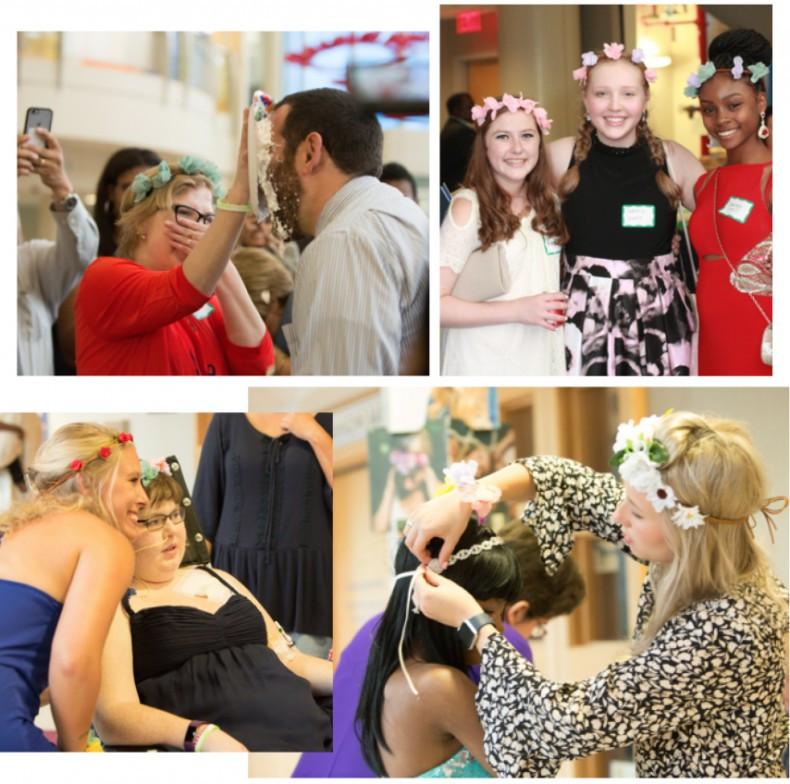 On April 22nd, 2017, Headbands of Hope hosted their first-ever prom at Duke Children's Hospital for some very special guests – kids with cancer. Jess Ekstrom, Founder and CEO of Headbands of Hope said that she noticed how many of these kids miss out on the big exciting and "normal" events of school events, dances, etc. That is what inspired her to host a prom in their honor! On April 3rd, Sweaty Bands and Headbands of Hope launched the release of
Hope Blooms
, a floral Sweaty Band with a cause. For each
Hope Blooms
band purchased, Sweaty Bands donated glitter hair ties to contribute to a fun booth at the prom where kids could make their own corsages and headbands using silk flowers. We set out with a goal of selling 100
Hope Blooms
. We are excited to report that with your help, we exceeded our goal and sold 175! We were able to provide Headbands of Hope with a variety of colored glitter hair ties. The kids attached silk flowers to them and created their own corsages!
The theme of the prom was "The World is Yours" and guests received passports that they could have stamped at different stations as they took photos with cardboard cutouts of monuments such as the Statue of Liberty and the Eiffel Tower. Food at the even offered guests tastes of Italy, China, and more.
The prom was full of laughter and dancing, DIY headbands and corsages and lots of yummy food. People posed in a photo booth and even smeared whipped-cream pies on Duke staff as part of the fun! After the prom, Headbands of Hope received a letter from a patient that said, "Thank you for helping make an amazing night possible! The whole hospital was filled with joy and colors, instead of pain and hoodies. I will never forget my first and best prom!"
Watch the YouTube video about the prom: